National Carillon
Aspen Island, Lake Burley Griffin, Canberra, Australia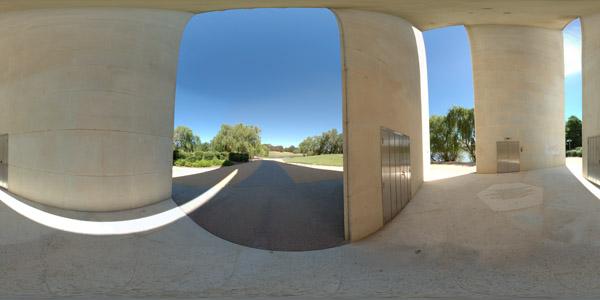 Available versions :
Located on Aspen Island, Lake Burley Griffin, the National Carillon was a gift from the British Government to the people of Australia to celebrate the 50th anniversary of the National Capital.
Other panos in same categories :
Geographic Coordinates:
Latitude : 35:17:55S (-35.2986)
Longitude : 149:08:30E (149.1418)
Time/Date:
20/12/2004 at 15:30 ( EST - Eastern Standard Time (UTC/GMT +10 hours) )
Equipment / Story of the image:
Taken with a Nikon D70 digital SLR, Fish Eye Sigma 8mm (partially full frame), f10 at 1/125 second. Mounted on a Kaidan KIWI-L QTVR Pano Head (on Sony Tripod) + Hand held Zenith/Nadir (4+2). Stitched with PTMac 2.1. Cleaned with Photoshop.