Kingston Old Bus Depot Markets
Old Bus Depot, Wentworth Av., Kingston, Canberra, Australia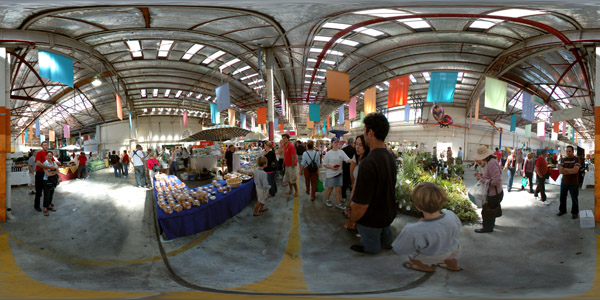 Available versions :
"Over 200 stalls of exceptional quality, featuring unique items that are handcrafted by local and regional artists and craftspeople". The markets is a well known place if you want to find some interesting souvenirs, good quality food ingredients (cheese !) or even to eat some exotic cuisine
Other panos in same categories :
Geographic Coordinates:
Latitude : 35:18:41S (-35.3113)
Longitude : 149:08:38E (149.1439)
Time/Date:
20/03/2005 at 13:03 ( EST - Eastern Standard Time (UTC/GMT +10 hours) )
Equipment / Story of the image:
Taken with a Nikon D70 digital SLR, Fish Eye Sigma 8mm (partially full frame), f5.0 at 1/100 second. Hand held (4+2 shots). Stitched with PTMac 3.0beta. Cleaned with Photoshop CS.